Five models, a "rectangular" design in the style of iPhone 4, 5G and OLED screens (except for iPhone SE2). Well-known analyst told what the line of iPhone 2020 will be.
06.12.2019 0 Comments
1
Analyst Ming-Chi Kuo, who from year to year is extremely accurate in predicting Apple's new products due to connections with component suppliers, shared his latest forecast for the next generation of iPhone smartphones. According to him, next year we are waiting for as many as five smartphones iPhone.
2
In March 2020, the successor of the popular compact iPhone SE smartphone will debut (we will continue to call it iPhone SE2 for convenience). About the ideological successor to the iPhone SE, which was released in 2016 and at the start cost from $ 399, before that we heard a lot of rumors. The latter indicated a design similar to that of the 4.7-inch iPhone 8 and specifications at the level of iPhone 11. The only difference is the screen: instead of the OLED display, the budget iPhone will get an LCD screen. Since then, nothing has changed in this regard. We summarize the alleged characteristics of the iPhone SE2:
4.7-inch LCD screen, Apple A13 SoC, 12 megapixel single main camera + same-resolution single selfie camera, 3 GB of RAM, 64 or 128 GB of internal flash memory, 2000 mAh battery (perhaps the only oddity ), Touch ID fingerprint scanner, support 4G LTE, IP68 protection and wireless charging.
In September 2020, four more models will join the budget iPhone SE2, which will stand out with a "rectangular" design (the case is more rectangular in shape with a slight rounding of corners) in the style of iPhone 4 and iPhone 5. This is exactly consistent with the analyst's earlier forecast. All four will receive OLED displays and 5G support, and the differences will be in camera sets and screen sizes. The basic models of the iPhone 12 and iPhone 12 Plus will succeed the iPhone XR and iPhone 11. They will receive dual main cameras and screens with a diagonal of 5.4 and 6.1 inches, respectively. The older iPhone 12 Pro and iPhone 12 Pro Max (analogs of 11 Pro and 11 Pro Max) will boast a triple camera with an improved 3D-sensor and larger displays – 6.1 and 6.7 inches.
Resource AppleHub provides the alleged characteristics of all four major iPhone models in 2020.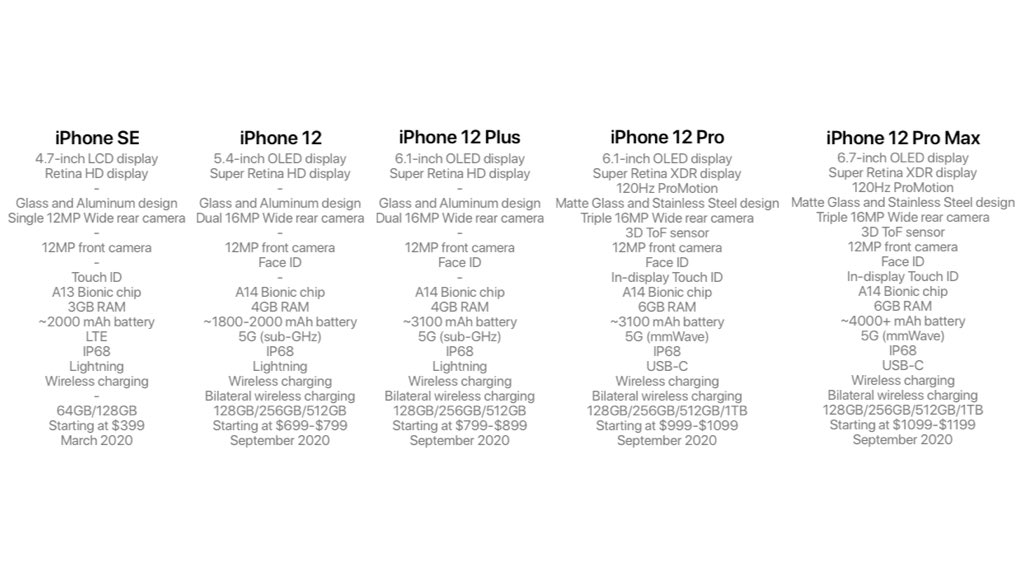 In a fresh analytical report to investors, Ming-Chi Kuo also shared forecasts regarding the iPhone 2021 line. He claims that in the second half of 2021 Apple will release a premium iPhone model for enthusiasts without any connectors. This will be the company's first fully wireless smartphone. In the first half of 2021, the iPhone‌ SE 2 Plus is expected to be released in a frameless design and without Face ID facial recognition. Instead, he will receive a Touch ID fingerprint scanner built into the power button on the side, like many Android smartphones now.

Source: 9to5mac and AppleHub

d

Artículos Relacionados:
r