The main thing about the coronavirus COVID-19 on March 5. Another infected in Russia
09.03.2020 0 Comments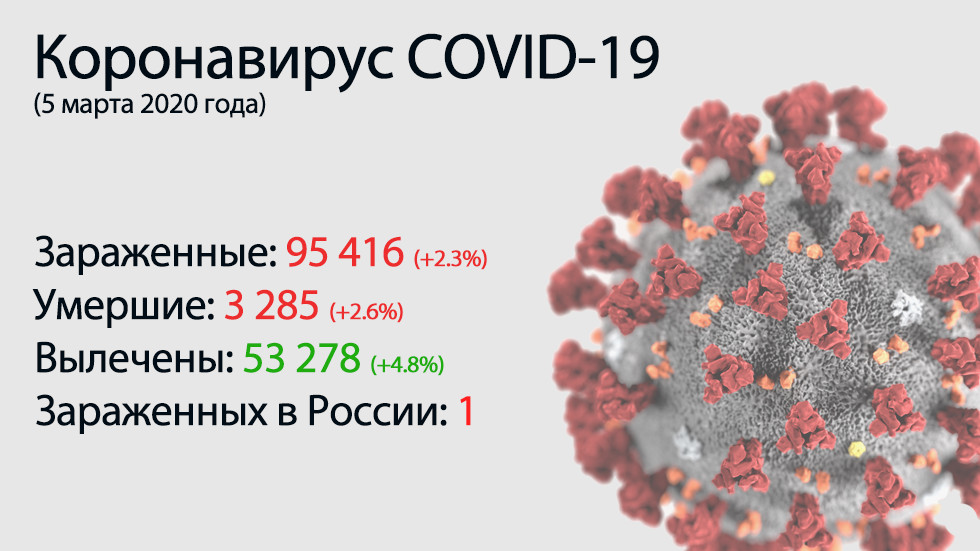 Main figures
According to the National Health Commission of China, as of the morning of March 5, the number of people infected with COVID-19 coronavirus is 95,416. The number of people cured of the infection is 53,278. Died as a result of a virus disease: 3,285 people.
Coronavirus in Russia
A new case of coronavirus infection has been registered in Russia. It was revealed in a citizen of Italy, whose condition is currently being assessed as normal. Nine Russians evacuated from the Japanese Diamond Princess liner showed no coronavirus. Now, citizens are preparing for discharge, before which doctors will re-analyze. Russian security officials will find distributors of fake messages about coronavirus in Russian social networks and instant messengers. According to the FSB, such messages may come from abroad in order to sow panic among Russian residents. Roskomnadzor promptly blocks such fake messages on VKontakte and Facebook. Russians are massively buying antiseptics against the backdrop of news about the coronavirus. According to the data published by Vedomosti, sales of antiseptics in January-February 2020 increased by more than 130% compared to the same period last year.
Coronavirus in the world
During the day, 87 people died from coronavirus. Coronavirus reached two new countries. The first cases of infection were recorded in Slovenia and Hungary. Sad statistics from Italy. The number of deaths due to infection with coronavirus per day almost doubled. A total of 107 people died from infection. Italian authorities have decided to temporarily close all schools and universities due to an outbreak of coronavirus. Bill Gates will invest in the fight against coronavirus up to $ 100 million. This money will allow testing thousands of drug samples. Testing will be done by specialists in Belgium. The number of patients with coronavirus outside of China exceeded 12 thousand people.
Recall that the specialists of the Center for System Research and Engineering have created an interactive map on which you can track the spread of the coronavirus COVID-19. It is available at this link.
Put 5 stars at the bottom of the article if you like this topic. Follow us on Telegram, VKontakte, Instagram, Facebook, Twitter, Viber, Zen, YouTube.
Loading…

d

Artículos Relacionados:
r